How to Keep the Good Mess and Control the Clutter | ADHD strategies
Clutter is a real and persistent problem for people with ADHD, adults and children alike. There are strategies that help, but figuring out which ones work for us and finding the motivation to start can both be difficult. To make it worse, we often realize we need a new strategy when the clutter in our homes has become overwhelming.
In this post, I want to talk about something I don't see discussed in relation to clutter very often, and which I learned from Lenore.
The very first step of fixing a messy room is figuring out what's making the mess!
Before you try to clean your clutter or create storage, you need to take stock.
Not all clutter is bad: ADHD and the creative mess
Many people with ADHD use visual reminders to help with memory. Often this means leaving things we are working on out in view. This is part of what I call clutter in motion, and it can be helpful. Many – although not all – people with ADHD actually like a certain amount of clutter, as it can be creatively stimulating.
However, the usefulness of clutter in motion is reduced if there is too much of any kind of clutter. At some point, it shifts from visual reminders to the visual equivalent of white noise, and the functional aspect is lost while the overall situation contributes to feelings of overwhelm and discouragement.
By limiting overall clutter, we can save space for the more useful (or simply inevitable) forms of clutter in motion, and reduce the overall potential for overwhelm.
This is why many ADHD oriented organizers recommend two main prongs of organizing for ADHD: having fewer things, and having a place for everything. Identifying what kinds of clutter you have first can help you figure out how to achieve those two rather tall orders!
The two types of clutter
We can broadly define clutter as "stuff out of place." But the fact of the matter is that there are a lot of reasons that things get out of place, and for someone dealing with ADHD, there might be more of these at play than for the neurotypical person.
I think of the two broadest kinds of clutter as IN MOTION and IN STASIS.
CLUTTER IN MOTION comes from the processes of living life:
laundry (in all stages)
dishes
projects
homework
bills/mail/paper
outerwear
things out for special events or travel
This category requires two things: functional space and routine maintenance. Without routine maintenance, these things can easily get out of hand and contribute to overwhelm. Without functional space, these things can end up moving over into the "clutter in stasis" category.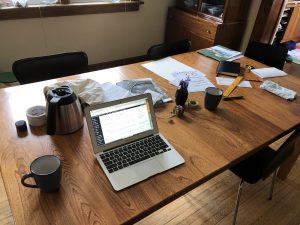 My dining room table with about 3 hours of clutter on it!
CLUTTER IN STASIS comes from things that have no place. Anything can end up in this category, and generally these are things that get shifted around your space in piles, or that you pick up when cleaning, look at, sigh, and put back down.
How to take stock of clutter
Let's assume that you have a mix of in motion and in stasis clutter around your whole home, and definitely not enough places to put all the stuff in stasis away. Here is my basic process:
Before you get started, set a goal and a timeline:
set your goals for small areas, not the whole home
you don't need a firm timeline, but you do need a firm sense that most long-term fixes come from long term efforts. You'll see progress quickly, but you won't get to your ideal "everything has its place" point overnight. Depending on how big your goal and where you are starting, it could be months.
Step 1 – Sort and take note
In the area you are focusing on, sort things into categories, either physically or by making notes (depending on how cluttered the area is). These categories should be fairly specific.
Here's a quick sort of my dining room to give you an example:
dirty dishes
toys
child's homework
craft supplies
sewing supplies
home files
business tools
magazines
clean linens
decor
3 piles of books
picnic blanket
The clutter under the chair has been displaced from my office and currently has no place to go.
Step 2 – Why are these things in this place?
It's pretty easy to see how our family uses the dining room from that list, right? By categorizing your clutter, you can gain insight into what is working and not working in your home. I don't really need to work on finding more storage for the dining room – I need to work on making sure that playing and crafting and homework and business can be either done elsewhere or put away elsewhere.
The books are what has been shifted out of place in my office redesign. These need decision-making: are we keeping them, and where will they go (you can check out our more general post on decluttering to get ideas for that process). If you are working through your whole space, you will develop some of these in stasis piles as things get moved around and temporarily lose their place. Don't be discouraged by this! It's part of the process. Move these piles to areas that you think they might find a permanent home, and work on them when you get there.
Step 3 – What keeps returning to this place?
Depending on what level of functionality your space has, you may find clutter persistently returning to an area. If this is the case, then repeat steps 1 and 2, paying special attention to which categories keep returning.
This stage of analysis will help you figure out how you are using your space, and where the functionality is breaking down.
It can also be the source of unexpected and creative design and organizational ideas, as you realize that you need an item to be quickly and frequently available in a space where it generally doesn't live, or that you are using your room for an activity that it wasn't meant for but could work really well if you went all in and redesigned it for that purpose.
This step can also help you identify which of your routine tasks you are avoiding, and how that impacts your space.
The Design – Organization Connection
Analyzing your clutter may not feel like the most design-oriented thing you've ever heard of. But even for neuro-typical clients, we sometimes recommend going through this kind of process before embarking on major renovations, because its easy to lose track of how you use a space and how the function of that space changes what you do.
Once you have a grasp of what is working and not working, and why, it's easier to decide what to do about it. Do you need to get rid of stuff? Do you need more storage space? Do you need to redesign some aspect of your home, or change the designated function of one of its spaces?
It's amazing how much clearer the answers are to those questions if you take stock of what's in the mess! And the answer doesn't have to be a Pinterest-perfect after picture of a spotless home.
Join the Structured Space on Facebook
If you liked this post, share it with your friends! Especially the ADHD person you love 🙂
If you have or support someone with ADHD and want to get involved with a community looking at design and organization for ADHD, come join The Structured Space community!
I post about ADHD and design on the last Friday of every month.
---
---